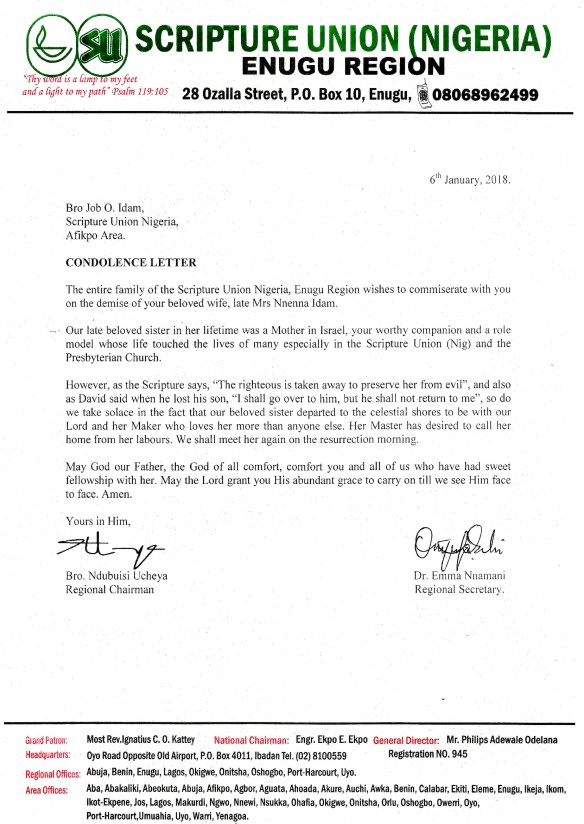 RELATIONSHIP: Family Friend
Country: Nigeria
Posted On: February 10th , 2018
State of Origin: Enugu
Address: 28 OZALLA STREET, ACHARA LAYOUT, ENUGU RELATIONSHIP: Daughter
Country: Nigeria
Posted On: February 9th , 2018
Place of Work: X2DTV
State of Origin: Ebonyi
To a Virtuous Woman (my G.Mum)
Mummy, you called me MEME and later graduated to calling me MEMERISTIC. I always loved the excitement in your voice anytime you called me. Every children's day you'll call me. I was part of your daughters. I called you my G.Mum (God-Mother) you always stood up for me and was ready to sacrifice anything. I remember you visiting one of the times I was sick, you left everything else and made sure I was better before you left.
its hard to believe you are with our father and are resting. But one thing is certain- we will meet again and will hear you call me MEME again. You are indeed a virtuous woman.
keep resting mummy.
keep
Share this tribute: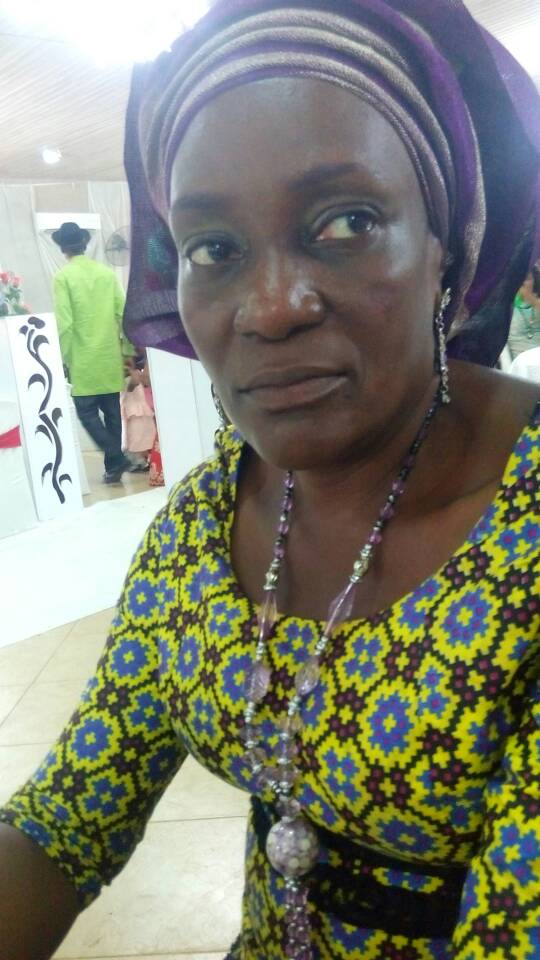 RELATIONSHIP: Sister
Country: Nigeria
Posted On: February 8th , 2018
A LIFE WELL SPENT
I thought I will never write this tribute, but keeping it longer than this never helped the understanding in my heart that its quite untimely to write this tribute to a dearest big sister
I grew up to know you as my eldest sister. And you lived up to all responsibilities attached to this, I will always remember your soft spoken words. I will recall it to mind that beautiful day you came to me, and said its time for me to give my life to Christ and you took me to full gospel business men fellowship and I gave my life to Christ.
Thank you so much and I know that God will surely reward you for leading me to Christ. I will surely miss your matured attitude in handling any case I ever had with you, because every little misunderstanding with you must be dialogued out.
You showcased Gods love to us as siblings. Always trying to protect our interests especially in my children's lives, you took care of them and showed them that nothing is impossible,big mummy as they called you has faith in God. No wonder two days before your demise you called me and told me that you're going to stress no more and that you'll be resting but I still didn't understand that you were talking about this great journey. I always rely on your longevity phrase, "that I will be very old and not in a hurry to die".... VIEW FULL TRIBUTE
Share this tribute: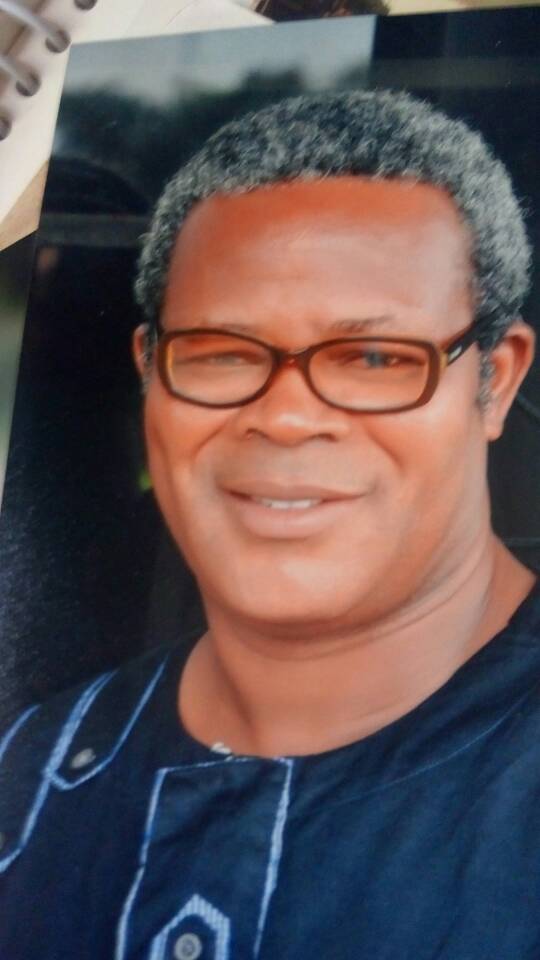 RELATIONSHIP: In-law
Country: Nigeria
Posted On: February 8th , 2018
Rest Well Ma
Sister, writing this Tribute is like singing the Lords song in a foreign land, but I have to do it. Grandma, as I used to call you, you did not do "well" by leaving at this crucial time that we need you most, since I heard from my wife of your departure I refused to believe and not bold enough to call "08032630690 will I ever receive calls from this number" it got too late to say my condolence to Uncle Job just because I don't want to believe, but I just have to. Sister you took me as your Son, since 1997 when I first met you. You approved my interest on your junior sister Ogbonne to be my wife even not considering my tribe as a Yoruba man. Till you bid this sinful world bye-bye you were always there for me, you took care of your grandson Royal & grand-daughter Olive for 3yr over there at Abakaliki where they did their Junior & Senior Secondary School. It is too painful that you're no more Sister. Am missing your speaking Yoruba to me "se alafia lewa, bawo in gbogbo kan" no body to calls me "Jaidoooh" again, but I got solace in the fact that you were a Believer and you were a Redeemed of our Lord Jesus, am saying Rest in Jesus bosom Sister Nnenna till we meet & part no more.
Jide Akinlabi. Brother in-law.
Share this tribute: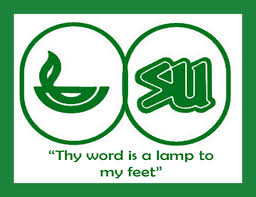 RELATIONSHIP: Friend
Country: Nigeria
Posted On: February 7th , 2018
A FAITHFUL SERVANT OF GOD IS GONE
SCRIPTURE UNION (NIGERIA)
OKIGWE REGION
To: The Family of
Elder Job Ogbonnaya Idam
A FAITHFUL SERVANT OF GOD IS GONE
The news of the demise of our beloved sister Nnenna Job Idam came to us like a thunderstorm, yes, it was a rude shock. We hardly believed it but, alas, it turned out to be true.
We cried and wished it would be reversed but, lo, it was God's ordained act to take a faithful servant home to rest!
Sister Nnenna Idam was indeed a faithful servant of God while she sojourned on this side of eternity. Ever smiling, but never unserious! Schools' work was her special calling. Where others failed she succeeded as though she had a magic wand that evoked the success. What was her secret? Passion! Burning passion!! Driving passion!!! Her work in Umuahia Area of Scripture Union (Nigeria) is a living testimony to this. Many of the souls she won and modeled for the Lord are still standing.
God, our Master and true Rewarder, has taken her home to rest in readiness for decoration with crown of many stars. Death has only made this possible and not done her any evil. It is only a pain to us who are left behind because we cannot see her in the flesh again. However, we will be brought together in eternity to part no more when the King of glory comes to rapture His own.
May the family she left behind be consoled by this one fact, that a labourer is worthy of his/her wages. Sister... VIEW FULL TRIBUTE
Share this tribute:
Displaying 10 out of 25 items
BIOGRAPHY OF LATE MRS. NNENNA JOB IDAM - NEE ELERI
Mrs. Nnenna Job Idam (Nee Eleri) was born on the 28th day of October 1955, into the family of Mr. & Mrs. Idam Eleri of Amachara Elu in Afikpo North LGA of Ebonyi state. She is the first in a family of seven children. She had her primary school education in Station Urban Primary School, Kpirikpiri, Abakaliki from where she obtained her FLSC in 1970, after the Nigerian Civil War. She enrolled in the then popular Izzi Girls Secondary School Abakaliki, and finished in 1975.

She taught briefly as an auxiliary teacher, before proceeding to Women Training College (WTC) Umuahia, from where she obtained her Teachers Grade II Certificate in 1980. She taught in various schools: Ukpa/Amachara Primary School, Ngodo/Amachi Primary School, just to mention a few. After a while, she proceeded to Ehamufu College of Education in Enugu State from where she got her National Teacher Certificate in education (NCE) in 1987.

In 1989, she got married to Mr. Job Idam of Ezi-aja village in Amuro, Afikpo North LGA. The marriage is blessed with three lovely children. Not yet satisfied with her educational qualification even after marriage, she proceeded to Federal University of Technology Owerri (FUTO) form where she studied and graduated with upper credit in Information and Communication Technology in 2004. Not yet satisfied again, she went to Imo State University Owerri, from where she graduated with a Bachelor of Science (BSc) degree in Government and Public Administration, in 2007.


WORK EXPERIENCE
Apart from teaching in various primary schools in her early days, she taught in the following areas.


| | |
| --- | --- |
| Secondary Technical School, Afara, Umuahia | 1990 – 1997 |
| Ibeku High School, Umuahia | 1998 – 2000 |
| Government College Umuahia | 2001 – 2009 |
| Model Comprehensive Girls Secondary School, Ugwuacara, Abakaliki | 2009 – 2013 |
At Ugwuachara, she served as a vice principal and retired as a Director of Education. After her retirement but not tired, she went into private practice as the General Supervisor of Blessed Martins International Schools. Until her death, she was the Principal of Blessed Martins International College.
CHRISTIAN LIFE
She embraced Christ very early in her life, and was a devote Christian, who dedicated her life in the service of God. At Ehamufu, she was the Christian Union/NIFES President. She featured very prominently in the Scripture Union Fellowship (SU) where she held various positions. She held the post of Zonal Secretary Scripture Union Afikpo Zone, Afikpo Township Group President, and was actively involved in scripture union activities with her husband, who served twice as "Area" Chairman, both in Umuahia and Afikpo respectively. She also actively participated in other religious activities, some of which include:
Member, Full Gospel Business Men Fellowship Afikpo/Abakaliki Chapters
Guest Speaker to various Full Gospel Fellowship in Abakaliki
Publicity Secretary of CAN (Christian Association of Nigeria) Women Wing, Abia State
Financial Secretary, WOW CAN, Ebonyi State chapter
Member, Intercessors for Nigeria
Women's Guide President
Presbyterian Church World Bank Parish, Umuahia
She was also the first National Secretary, Afikpo Chirsitian Fellowship (ACF) of Nigeria. She was until her death, a marriage counsellor, and one of the co-ordinators of the Teens Church in St. Peters Presbyterian Church Abakaliki. Her great passion for youth propelled her into reaching them through her organization of Scripture Union (SU) fellowship in all the schools she taught in. She loved the youth and they loved her too.
Adieu Mama
You will always live in our hearts.