 RELATIONSHIP: Family Friend
Country: Nigeria
Posted On: February 5th , 2018
CONDOLENCE MESSAGE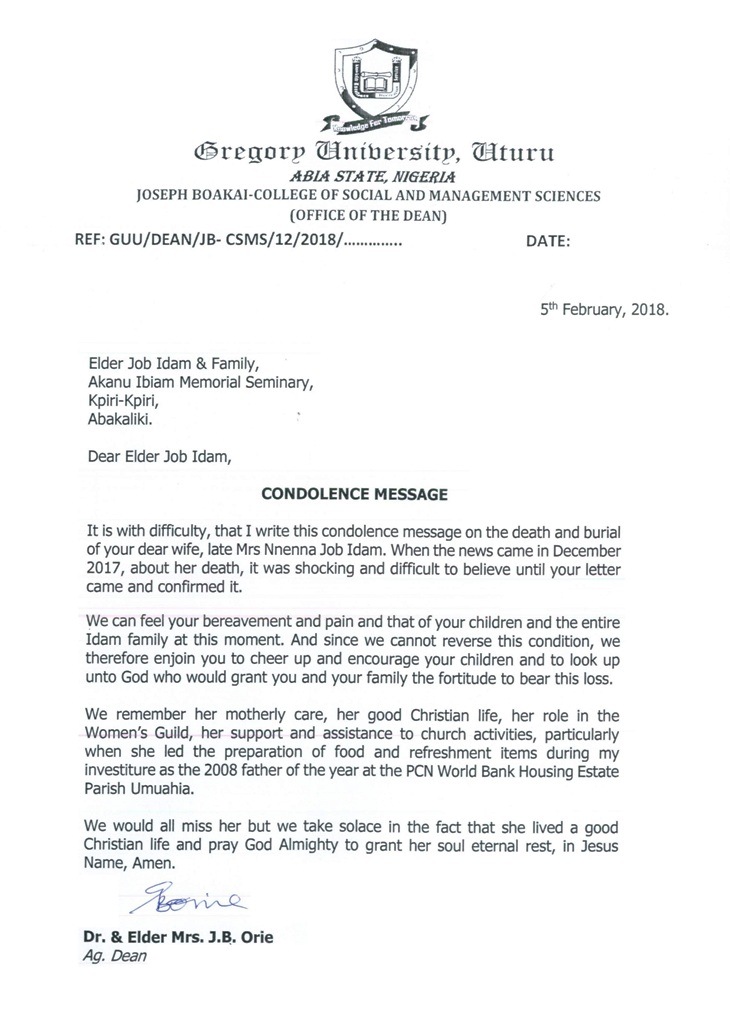 CONDOLENCE MESSAGE
It is with difficulty, that I write this condolence message on the death and burial of your dear wife, late Mrs Nnenna Job Idam. When the news came in December 2017, about her death, it was shocking and difficult to believe until your letter came and confirmed it.
We can feel your bereavement and pain and that of your children and the entire Idam family at this moment. And since we cannot reverse this condition, we therefore enjoin you to cheer up and encourage your children and to look up unto God who would grant you and your family the fortitude to bear this loss.
We remember her motherly care, her good Christian life, her role in the Women's Guild, her support and assistance to church activities, particularly when she led the preparation of food and refreshment items during my investiture as the 2008 father of the year at the PCN World Bank Housing Estate Parish Umuahia.
We would all miss her but we take solace in the fact that she lived a good Christian life and pray God Almighty to grant her soul eternal rest, in Jesus Name, Amen.
Dr. & Elder Mrs. J.B. Orie
Ag. Dean
Share this tribute: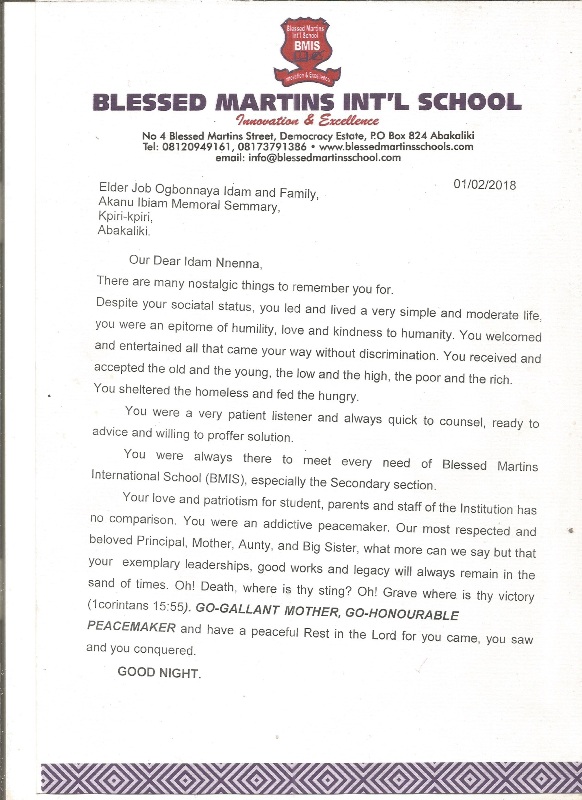 RELATIONSHIP: Colleague
Country: Nigeria
Posted On: February 2nd , 2018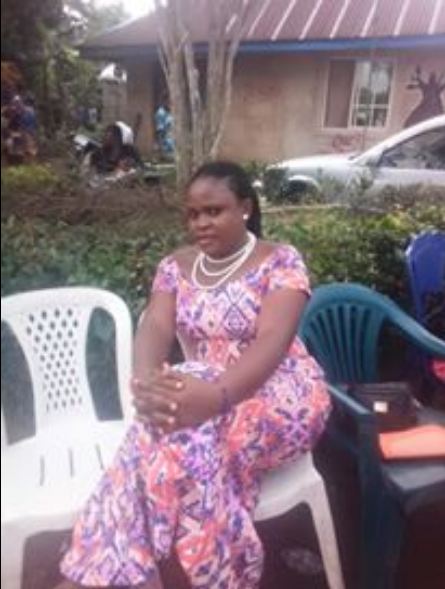 RELATIONSHIP: Daughter
Country: Nigeria
Posted On: January 31st , 2018
Department: TEACHING
Place of Work: PORT HARCOURT
State of Origin: Ebonyi
Address: RUMOUDARA, PORT HARCOURT, RIVERS STATE
TRIBUTE TO A ROLE MODEL
I was asked to write a tribute but if I may ask, will it ease the pain I feel? Inside my heart? Will it console me! Will it make it better? Will it bring you back to life? Will it …………………………. Will it …………………………
Thank you for being the one that was chosen by God to train me upright from the age of 8 years you nursed me and made me who I am today not that my family was not there, that is why I am proud of you anytime, Anyday, anywhere.
My dearest mum, my role model, a great woman, soure of my strength and confident. On Tuesday 5th December 2017 after work I picked my phone only to see 9 missed calls I quickly called one of the members only to hear you were no more Oh!

Shouted I cried, who will fill this great vacuum you just created in my heart.
You called only to tell me to come for X-mas and while coming I should bring something for you but you never told me it was a farewell call. But in all I know you are resting peacefully and perfectly in the bosom of the almighty
Live on Mummy.
Live on the woman that never gave birth to me but introduced me as her first daughter (Oby Nwam)
Live on the only woman that calls to pray for me during my birthday
Live on ………………………. Live on ………………………………. To me meet to part no more
...
VIEW FULL TRIBUTE
Share this tribute: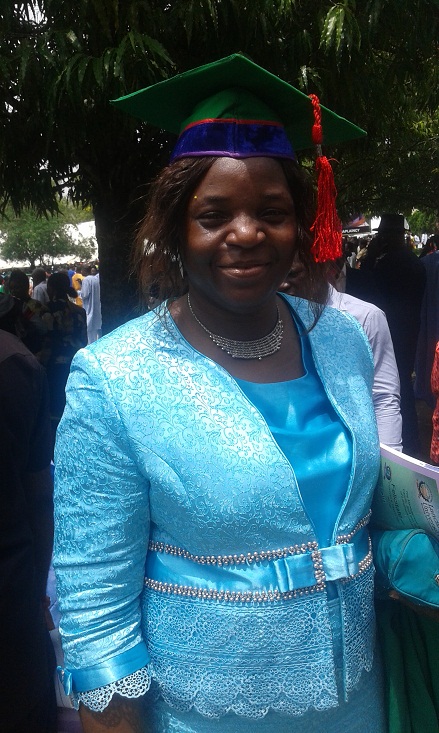 RELATIONSHIP: Sister
Country: Nigeria
Posted On: January 30th , 2018
My Sister, My Mother
You were my best friend, my human confidant. You played the role of a sister, a mother, a mentor and a role model to me. You taught me to treasure the person of the Holy Spirit in the race of life. The wisdom of God at work in your life taught me that there is solution to every challenge of life. Thank you for being there always for me and for giving my children the opportunity to have the thirst of a grandmother. We love you and treasure every memory of you
Share this tribute: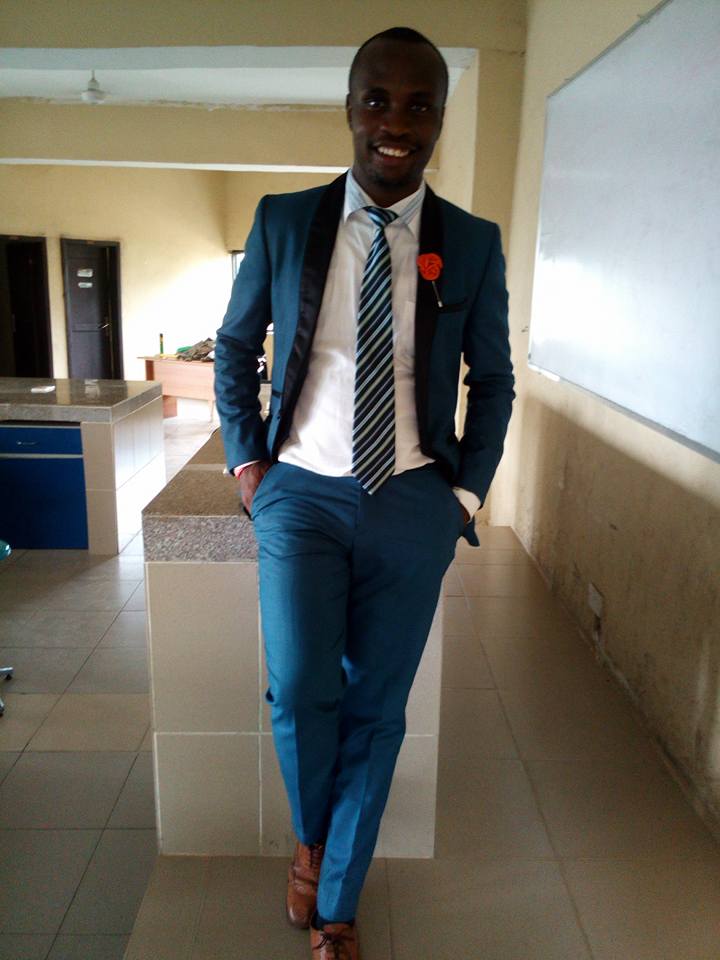 RELATIONSHIP: Son
Country: Nigeria
Posted On: January 30th , 2018
Place of Work: COVENANT UNIVERSITY SECONDARY SCHOOL
State of Origin: Ebonyi
A LEGEND GOES HOME
MADAM, as I fondly called you. The Love of my life. Strong, bold, beautiful. With great elegance and poise, you graced this world and I am privileged to be your son, a privilege I ensured I never took for granted
In you was a true expression of the Proverbs 31 woman. In Us you bred a family founded in Love, kept by grace and guided by the word of God. You taught us that after God, family bond should be the upmost. You introduced me to Christ, taught me how to pray, taught me the importance of kingdom service and exhibited the Christ-like life with various Children and Missionaries passing through your care and tutelage all through your life.
Madam, you taught and exhibited the life nugget, that the Investment in Solid Character is the key to a successful life on earth. ChuChu as you would fondly call me and say "Remember you are a Priest dedicated to God from birth", that has always formed the basis on which I have continued to live the God kind of life.
In your life, I drew the strength to be a teacher, a Christ-modelled teacher, and I am replicating your life, ways, teachings and instructions in the younger generations with success proofs following. Your love for the Youths and your Youth ministry will not be forgotten.
If I could I would cry a river to have you back but I know that you have exhausted your God given potentials and have gone to be with the... VIEW FULL TRIBUTE
Share this tribute:
Displaying 15 out of 25 items
BIOGRAPHY OF LATE MRS. NNENNA JOB IDAM - NEE ELERI
Mrs. Nnenna Job Idam (Nee Eleri) was born on the 28th day of October 1955, into the family of Mr. & Mrs. Idam Eleri of Amachara Elu in Afikpo North LGA of Ebonyi state. She is the first in a family of seven children. She had her primary school education in Station Urban Primary School, Kpirikpiri, Abakaliki from where she obtained her FLSC in 1970, after the Nigerian Civil War. She enrolled in the then popular Izzi Girls Secondary School Abakaliki, and finished in 1975.

She taught briefly as an auxiliary teacher, before proceeding to Women Training College (WTC) Umuahia, from where she obtained her Teachers Grade II Certificate in 1980. She taught in various schools: Ukpa/Amachara Primary School, Ngodo/Amachi Primary School, just to mention a few. After a while, she proceeded to Ehamufu College of Education in Enugu State from where she got her National Teacher Certificate in education (NCE) in 1987.

In 1989, she got married to Mr. Job Idam of Ezi-aja village in Amuro, Afikpo North LGA. The marriage is blessed with three lovely children. Not yet satisfied with her educational qualification even after marriage, she proceeded to Federal University of Technology Owerri (FUTO) form where she studied and graduated with upper credit in Information and Communication Technology in 2004. Not yet satisfied again, she went to Imo State University Owerri, from where she graduated with a Bachelor of Science (BSc) degree in Government and Public Administration, in 2007.


WORK EXPERIENCE
Apart from teaching in various primary schools in her early days, she taught in the following areas.


| | |
| --- | --- |
| Secondary Technical School, Afara, Umuahia | 1990 – 1997 |
| Ibeku High School, Umuahia | 1998 – 2000 |
| Government College Umuahia | 2001 – 2009 |
| Model Comprehensive Girls Secondary School, Ugwuacara, Abakaliki | 2009 – 2013 |
At Ugwuachara, she served as a vice principal and retired as a Director of Education. After her retirement but not tired, she went into private practice as the General Supervisor of Blessed Martins International Schools. Until her death, she was the Principal of Blessed Martins International College.
CHRISTIAN LIFE
She embraced Christ very early in her life, and was a devote Christian, who dedicated her life in the service of God. At Ehamufu, she was the Christian Union/NIFES President. She featured very prominently in the Scripture Union Fellowship (SU) where she held various positions. She held the post of Zonal Secretary Scripture Union Afikpo Zone, Afikpo Township Group President, and was actively involved in scripture union activities with her husband, who served twice as "Area" Chairman, both in Umuahia and Afikpo respectively. She also actively participated in other religious activities, some of which include:
Member, Full Gospel Business Men Fellowship Afikpo/Abakaliki Chapters
Guest Speaker to various Full Gospel Fellowship in Abakaliki
Publicity Secretary of CAN (Christian Association of Nigeria) Women Wing, Abia State
Financial Secretary, WOW CAN, Ebonyi State chapter
Member, Intercessors for Nigeria
Women's Guide President
Presbyterian Church World Bank Parish, Umuahia
She was also the first National Secretary, Afikpo Chirsitian Fellowship (ACF) of Nigeria. She was until her death, a marriage counsellor, and one of the co-ordinators of the Teens Church in St. Peters Presbyterian Church Abakaliki. Her great passion for youth propelled her into reaching them through her organization of Scripture Union (SU) fellowship in all the schools she taught in. She loved the youth and they loved her too.
Adieu Mama
You will always live in our hearts.