 RELATIONSHIP: Mother
Country: Nigeria
Posted On: January 20th , 2018
IRREPLACEABLE LOSS
I didn't know I would be writing this... Mummy you taught me that family is more about bond than blood. When everyone rejected me and my brother you took us in and turned us into the Men we are now.
Izu nwam you would call me on my birthday and pray and prophesy,who will pray for me on the 15th of Dec every year and give me God's counsel for the New Year at least you should have waited for this year.
Mummy all your children are here in the house waiting for you to come back what am I going to tell them? I told them you said we should not cry so we are trying not to,
Training children who weren't yours biologically was natural,you had a passion for the young people, your kindness love and large heart made it impossible for strangers to tell that I wasn't even your biological child now they will be shocked to know this after exactly 20years. Mummy your words were like the voice of God to me, I had no fear of making mistakes in life,now who will pray for us chaaiii. Everything you said to me I will hold dearly. I promise to always make you proud.
Mummy I want to wake up from this dream, but I know we will awake on the resurrection morning when we will meet to part no more.
Adieu Mummy
Adieu God's General
Adieu My Baby girl
Iz Chukwu RELATIONSHIP: In-law
Country: Nigeria
Posted On: January 16th , 2018
Department: USAID- HFG
Place of Work: USAID-HFG
State of Origin: Ebonyi
Address: Calabar
You live on
USAID-HFG CALABAR OFFICE FORMAL UCTH ANNEX MOORE CALABAR 16TH January, 2018
ELDER JOB IDAM
CONDOLENCE
The bible describes life as a vapour that disappears within a short while, but for you Mummy, it rather came as a very drastic shock that we have not recovered from. It's obvious we cannot question the Almighty, but if we are allowed to, believe me, we will demand to have you back several times over.
Mummy, you were such a good mother, an example of a Christian mother, a written epistle to me, my entire family and everyone. I never knew my wife had a biological mother besides you. Thank you for all the roles you played in the success of our marriage and the happy home we now enjoy. We were still expecting you to come do the "Omugwu" we agreed on, what about the enrolment of baby Helen into your school, so all this have gone down the drain.
The pain, the hurt, the thought of who will step into the life style you lived here on earth remains a misery that only the havens can provide explanations to. There is nothing Bro IB, Nne, Elder or anyone will write that can completely encapsulate your personality because you were too good to everyone.
Mummy Idam, tears roll down as I write this tribute
My... VIEW FULL TRIBUTE
Share this tribute: RELATIONSHIP: Mother
Country: Nigeria
Posted On: January 16th , 2018
My Pillar of Support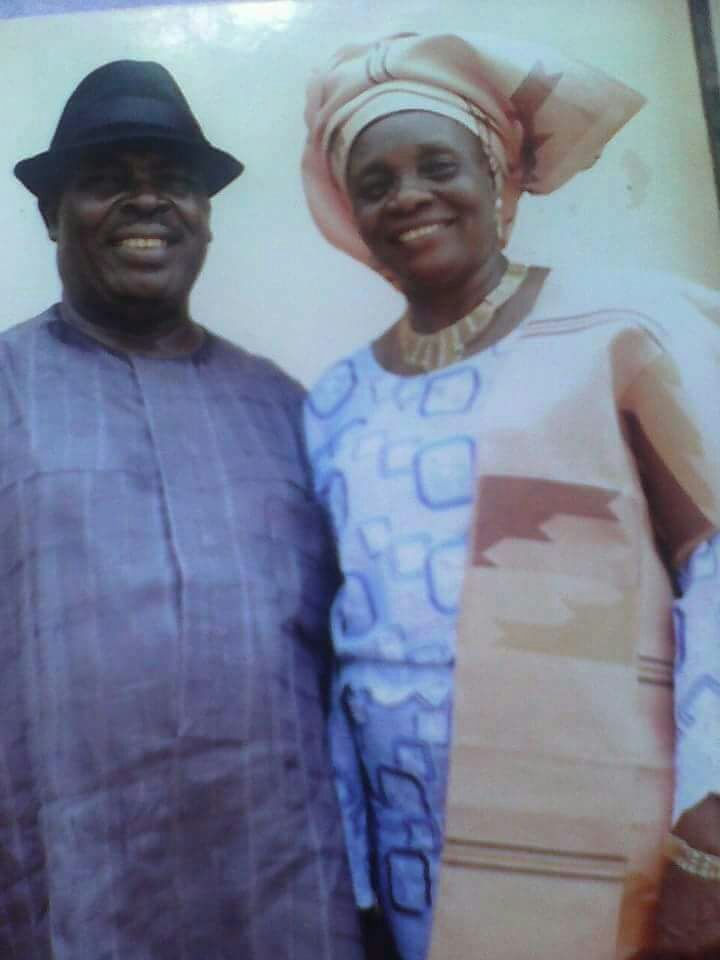 I am still battling to believe that i will never be with you again.
You have always been the pillar that held and kept me focused, with your words of guidance, even when i failed countlessly as a son, you still came in private to inform me that there is always another chance to right my wrong...
You moulded me into the man i grew up as a boy to become.
I never knew, my last call with you, a week before Chuchu broke the news to me, was going to be the last piece of advice and encouragement "we will continue to pray for you my son, be strong" i was going to get from you.
Mumsy, i have cried, but my cry cant bring you back.. I just want you to know that I LOVE YOU. I must surely put into practice all that you taught us.... weird as it may be, i wish to still hear from you, from beyond.
Adie Mumsy, till we meet to part no more.
Adie Nee Eleri
Share this tribute: RELATIONSHIP: Family Friend
Country: Nigeria
Posted On: February 11th , 2018
GONE BUT STILL FELT
We live today and tomorrow we die what is the meaning of life?
Maama I still can't believe that you are gone because I still feel you around. Your voice still rings in my ear like we are talking to each other physically. I still here you calling out "Nna m, Maazi m, Emma nwa m, Ete, Nwoke Olokoro, Dee mu o". You took me in like a son, gave me advice a mother will give her son. You were always there for me and reminded me all the time the importance and benefits of living a godly life. You were a beacon of hope to many especially the downtrodden, you helped those in need and never supported evil, an advocate of peace, justice and fairness. You never declined helping people because other people's happiness was more important to you than your own happiness, a selfless human being that was you, your type is rare to find. Although you are no longer with us physically, we still feel you around us. We would have loved for you to stay with us more but the Almighty has said it is time for you to rest and I know you are resting in his bossom. Rest on mummy till we meet to part no more.
Adieu!
Maazi na-asi gi nodu mma!!!
Share this tribute: RELATIONSHIP: Mother
Country: Nigeria
Posted On: January 8th , 2018
Department: Legal Department
Place of Work: Akanu Ibiam Federal polytechnic Unwana Afikpo
State of Origin: Abia
Address: 20 Brackenbury street, Abakaliki.
I will miss you mom.
Words will fail me to describe all you were to me- a mother, a teacher, my gist partner, my advisor.
You were caring to a fault, godly in all regard. A woman with a golden heart. I loved you and I still love you.
I will miss you mom.
Share this tribute:
Displaying 25 out of 25 items
BIOGRAPHY OF LATE MRS. NNENNA JOB IDAM - NEE ELERI
Mrs. Nnenna Job Idam (Nee Eleri) was born on the 28th day of October 1955, into the family of Mr. & Mrs. Idam Eleri of Amachara Elu in Afikpo North LGA of Ebonyi state. She is the first in a family of seven children. She had her primary school education in Station Urban Primary School, Kpirikpiri, Abakaliki from where she obtained her FLSC in 1970, after the Nigerian Civil War. She enrolled in the then popular Izzi Girls Secondary School Abakaliki, and finished in 1975.

She taught briefly as an auxiliary teacher, before proceeding to Women Training College (WTC) Umuahia, from where she obtained her Teachers Grade II Certificate in 1980. She taught in various schools: Ukpa/Amachara Primary School, Ngodo/Amachi Primary School, just to mention a few. After a while, she proceeded to Ehamufu College of Education in Enugu State from where she got her National Teacher Certificate in education (NCE) in 1987.

In 1989, she got married to Mr. Job Idam of Ezi-aja village in Amuro, Afikpo North LGA. The marriage is blessed with three lovely children. Not yet satisfied with her educational qualification even after marriage, she proceeded to Federal University of Technology Owerri (FUTO) form where she studied and graduated with upper credit in Information and Communication Technology in 2004. Not yet satisfied again, she went to Imo State University Owerri, from where she graduated with a Bachelor of Science (BSc) degree in Government and Public Administration, in 2007.


WORK EXPERIENCE
Apart from teaching in various primary schools in her early days, she taught in the following areas.


| | |
| --- | --- |
| Secondary Technical School, Afara, Umuahia | 1990 – 1997 |
| Ibeku High School, Umuahia | 1998 – 2000 |
| Government College Umuahia | 2001 – 2009 |
| Model Comprehensive Girls Secondary School, Ugwuacara, Abakaliki | 2009 – 2013 |
At Ugwuachara, she served as a vice principal and retired as a Director of Education. After her retirement but not tired, she went into private practice as the General Supervisor of Blessed Martins International Schools. Until her death, she was the Principal of Blessed Martins International College.
CHRISTIAN LIFE
She embraced Christ very early in her life, and was a devote Christian, who dedicated her life in the service of God. At Ehamufu, she was the Christian Union/NIFES President. She featured very prominently in the Scripture Union Fellowship (SU) where she held various positions. She held the post of Zonal Secretary Scripture Union Afikpo Zone, Afikpo Township Group President, and was actively involved in scripture union activities with her husband, who served twice as "Area" Chairman, both in Umuahia and Afikpo respectively. She also actively participated in other religious activities, some of which include:
Member, Full Gospel Business Men Fellowship Afikpo/Abakaliki Chapters
Guest Speaker to various Full Gospel Fellowship in Abakaliki
Publicity Secretary of CAN (Christian Association of Nigeria) Women Wing, Abia State
Financial Secretary, WOW CAN, Ebonyi State chapter
Member, Intercessors for Nigeria
Women's Guide President
Presbyterian Church World Bank Parish, Umuahia
She was also the first National Secretary, Afikpo Chirsitian Fellowship (ACF) of Nigeria. She was until her death, a marriage counsellor, and one of the co-ordinators of the Teens Church in St. Peters Presbyterian Church Abakaliki. Her great passion for youth propelled her into reaching them through her organization of Scripture Union (SU) fellowship in all the schools she taught in. She loved the youth and they loved her too.
Adieu Mama
You will always live in our hearts.