 RELATIONSHIP: Sister
Country: Nigeria
Posted On: August 11th , 2020
Department: Mass Communication
Place of Work: Nnamdi Azikiwe University, Awka, Anambra State, Nigeria (UNIZIK)
State of Origin: Anambra
Address: UNIZIK
Fare Thee Well, My Beloved Brother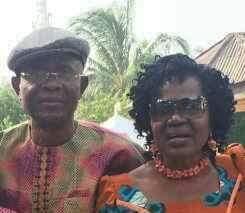 For me, the pain of your loss remains as poignant as it was on the day of your death six months ago. In life, you were much-loved and exceptionally appreciated for who you were and for your amazing acts of love. In death, my love and appreciation remain unchanged. IRREPLACEABLE, that's what you are!!! Fare Thee Well, Beloved Brother, and may the good Lord grant eternal rest to your soul in Paradise.
Share this tribute: RELATIONSHIP: Family Friend
Country: Nigeria
Posted On: August 11th , 2020
Department: Theatre Arts
Place of Work: AE-FUNAI, Ebonyi State
State of Origin: Ebonyi
Address: Amata-Akpoha, Afikpo North LGA, Ebonyi State
A Journey in Service
Tribute to Late Rev. Ugochukwu O. Adimora
Life well lived in the service of God is the best in a period of untoward dispositions as seen in our world of today. As a Rev Minister of God, it bespeaks of your divine and celestial connections. We're therefore, consoled that your demise is not a loss but a heavenly addition.
The staggering number and overwhelming outpour of tributes can only suggest one thing; a persona who not only lived to serve God but also humanity. That again is rare in this part of our world where man's inhumanity to man has become a norm. Your exit conjures a feeling of great loss to not only your immediate family but also to those you have touched in more ways than one.
On behalf of the family of Ben Eze ORJI, may I convey with utmost sincerity our deepest condolences to the larger Adimora family and, most importantly, to our dearest academic mentor and mother, Prof Akachi 'Dora Ezeigbo, whom, Late Rev Ugochukwu Adimora was more than just a brother.
We hope that, in some way, our words of support may help bring a little bit of peace of mind and solace in this time of sadness.
Adieu, dear Rev Obiora.
Bernard Eze ORJI
Share this tribute: RELATIONSHIP: Family Friend
Country: Nigeria
Posted On: August 9th , 2020
'The souls of the righteous are with God'
Dear Rev Ugochukw, as you have gone to your maker, may you find eternal peace in his kingdom.
To the entire family of the deceased, especially, Prof Akachi Ezeigbo Adimora, may God give you the courage to bear the huge loss.
Accept my profound and heartfelt condolences, Prof.
Share this tribute: RELATIONSHIP: Family Friend
Country: United Kingdom
Posted On: August 9th , 2020
Department: Economics
Place of Work: London
State of Origin: Rivers
CONDOLENCE
Dear Professor Akachi Adimora Ezeigbo And Family.
I am so sorry to hear about the loss of your beloved brother Late Rev. Ugochukwu Obiora Adimora.
Your brother left behind a light that will never dim or fade and it will remain bright by the love you feel and memories made.
It can warm you like a candle's glow and help bring comfort too. And no matter where you go, you will find it's always close to you. And in the darker times remember in your hearts his light is strong so every time you think of him, his memory shines on.
His Light Shines On, thinking of you and wishing you comfort , with deepest sympathy
Share this tribute: RELATIONSHIP: Family Friend
Country: Nigeria
Posted On: August 8th , 2020
Department: English and Literary Studies
Place of Work: AE-FUNAI
State of Origin: Enugu
Condolence Message
Prof. Akachi Ezeigbo
English and Literary Studies
Alex Ekwueme Federal University Ndufu Alike
MY CONDOLENCES
RE: LATE REV. UGOCHUKWU OBIORA ADIMORA
I commiserate with you over the death of your beloved brother, Late Rev. Ugochukwu Obiora Adimora. His demise is not only a great loss to you and your family; it has also affected everyone who came in contact with him.
Death, though painful for the living, is the way all mortals would go. It is a fact that his death has created a big vacuum in the family, however, I urge you to take solace in the fact that he lived a worthy Christian life. The virtuous life he lived, his uncommon charisma, charity and steadfastness manifested in his ministry and peace and love in his relationships; are worthy to be proud of. I pray God Almighty in His infinite mercies to comfort you and your family in this moment of grief. Find solace in the fact that there is no sorrow heaven cannot heal. Finally, I implore you to uphold the legacies he left behind.
May his kind and gentle soul rest in peace; Amen!
Dr. Evelyn N. Urama
Share this tribute:
Displaying 15 out of 56 items
BIOGRAPHY OF LATE REV. UGOCHUKWU OBIORA ADIMORA
Rev. Ugochukwu Obiora Adimora was born on December 8, 1952. He was the 3rd of the children of Joshua and Christiana Adimora of Umueze, Uga, in Aguata Local Government Area, in Anambra State.

He was educated at Ibeme Grammar School, Mbano until the Biafran War started in 1967. Conscripting people into the army was then the norm. He joined the Biafran infantry in 1969 at a very young age and received the full Biafran military training as a Commando at Madonna 7, in Etiti.

When the war ended and the Biafran military disbanded, life was so uncertain for most young men who fought in the war. Ugo made a decision to go into business. In 1971, he returned home from Cameroon where he had travelled for business and relocated to Lagos where he continued in the business profession. Ugo would later move between cities, including Enugu, Kano, Lagos, London, and Warri in his business pursuits before deciding to settle finally in Uga. There were of course many interludes in Ugo's life that cannot be detailed in this short space.

Early in 1981, Ugochukwu got married to Ngozi from the Nwoye family of Awalasi Village in Uga and they have three children, Nnamdi, Adaugo and Chinyere as well as five grandchildren.

A hardworking and successful businessman, he was the CEO of Benagoz Resources Ltd and the Director of Hobel Resources Ltd. The two companies provided and executed construction and engineering services to numerous customers in the southeastern states of Nigeria.

Ugochukwu was a committed Christian and remained steadfast in his construction business to support his family and the Uga Word Believers Assembly Church he was pastoring.
FUNERAL ARRANGEMENTS FOR REV. UGOCHUKWU OBIORA ADIMORA
Online Service of Songs
Date: Saturday, 15th August, 2020
Time: 1800 hrs - 6PM, Nigerian Time
Venue: Zoom (Online)
Invitation Link: www.tributesportal.com/online-service-of-songs/rev-ugochukwu-adimora

Funeral Service and Interment
Friday, 21st August, 2020

Compulsory use of face masks and observation of social distancing

RSVP: 08035431389, 08037544005