 RELATIONSHIP: Family Friend
Country: Nigeria
Posted On: August 6th , 2020
Department: ENGLISH AND LITERARY STUDIES
State of Origin: Ebonyi
THE PORTRAIT OF A WARLORD AND THE GRATEFUL BOW.
Memories don't wane or shrink, it resonates freshness as far as it counts.
Last November, was the last we talked, it was in a convention, he called my name "Joshua umoke" so loud , that I halted like a soldier in a parade , he talked and talked, he asked of my big brother and all. We parted ways, leaving that last moment unplanned.
On that February morning, I was far away in Delta, preparing for a semester exams, when my sister ( who happened to be closest to the family) called saying " Bro Adimorah anwua", I was bewildered , I shrugged, I refused to believe her yet I never did disagreed, I called "Ezinwanne' ( Rev ugo last girl) the last we spoke ,we talked about her it is our responsibility to take care of our parents in their old age, we agreed that the universe help us to do so,her phone rangbut I lost morale and hung the call, I called my mum instead and she confirmed the news.
Well, it is always a pleasure to write of a warlord, his trips and battleline, his strategy, survivals and retirement. Today I remember a man who meant a lot to me and my family, The Man who loved and cared, Who served and has retired.
A warlord whose portrait is hanging as a guideline for the younger generation, he knows what he believes and stood for it till that Grateful bow.
You didn't retreat or surrender, you were a gallant soldier.
Rest on Reverend... VIEW FULL TRIBUTE
Share this tribute: RELATIONSHIP: Family Friend
Country: Nigeria
Posted On: August 6th , 2020
Tribute To A Rare Gem:Rev. Ugochukwu Obiora Adimira
We have accepted God's will and plan,for your life in quiet humility. In all things we give thanks. Who can question God the Almighty. You are gone but not forgotten.
You will always be remembered in our heart. May the gentle soul of your beloved brother rest in the bosom of the Lord your maker.
Uche Okoroafor Mrs. Chiko's Friend.
Share this tribute: RELATIONSHIP: Family Friend
Country: Nigeria
Posted On: August 6th , 2020
COMMENDATION AND CONDOLENCES
Dear Professor Akachi Ezigbo,
AE-FUNAI,
Ebonyi State.
COMMENDATION AND CONDOLENCES
It was with shock, great pain and sorrow that I received the news of the death of beloved brother, Rev. Ugochukwu Obiora Adimora, Uncle U.
Rev. Adimora was a devout Christian, a peace maker, a good family man and a successful business man that was very much at peace with God and man.
My dear Prof., you must be in pains because I know how much you loved your brother. May our good God, who does all things well, grant you and, the entire Adimora family, grace and the fortitude to bear this great loss.
May the gentle soul of your beloved brother, Rev. Ugochukwu Obiora Adimora, rest in perfect peace. Amen!
Prof. Michael U. Onuu
(for the family)
Share this tribute: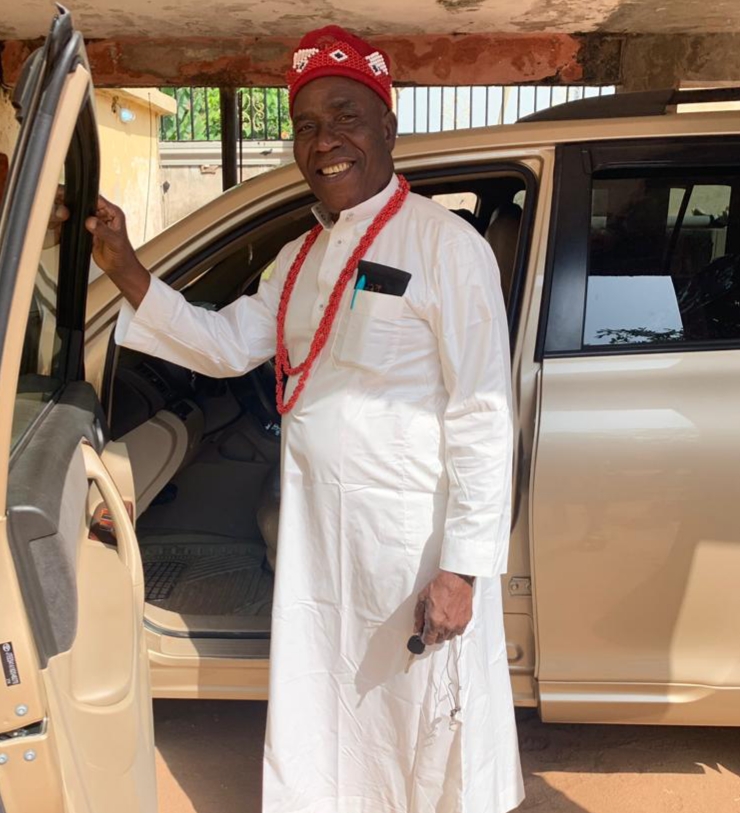 RELATIONSHIP: Family Friend
Country: Nigeria
Posted On: August 6th , 2020
State of Origin: Anambra
Address: Ichie Cyprian. U. Ezeofor's Residence in Okpo-Ekwulobia, along Ekwulobia-Ezinifite road.
TRIBUTE TO A DEAR FRIEND
Reverend Ugoo, so for real you're gone?This is one of the greatest devastated news that I've ever received in my entire life. We agreed on meeting each other before the uninvited deadly COVID-19 interrupted that appointment. Ewoo! Akpataoyi ezuo m aru ooo! A news that I assumed to be a dream has turned out to become a reality that can never be reversed! What a life of ashes and vanity that we daily foolishly boast of! Chai! Death indeed is unfair to mankind. This pain is so much for me to bear. Please can someone wake me up from this dream with a different news that this rare gem has come back to life? I can't forget your goodness in my existence in a hurry. You were too disciplined, selfless, kind-hearted and incorruptible to a fault. Since the very day that our paths crossed in Ekwulobia till you departed you've never shown yourself less trustworthy and caring even as a child that you were. You indeed, left behind admirable legacies worthy of emulation.
Though I am bereaved but I have this consolation that you're in a better place having surrendered totally to your creator even amidst plenty during your lifetime. Even unto death, you will forever be missed my dear one. In deepest sincerity I wish you nothing but eternal rest in the Lord till we meet to part no more????
Ichie Cyprian.U. Ezeofor (Akuzuoke)
Share this tribute: RELATIONSHIP: Cousin
Country: United States
Posted On: August 5th , 2020
Place of Work: CVS
Address: 22807 April Springs Ln
Farewell Dearest Cousin
Dearest Coz it was so sad when I heard of your demise, I never thought I will not see you again after your visit at my brother's death at Uga. You will be missed seriously, a man with the kindest heart and soul, a man who will go above and beyond for his family and friends, Me and my family will miss you dearly and I pray for the Lord to give you an everlasting rest so we will meet again beyond. Farewell but not forever until we meet again.
Share this tribute:
Displaying 30 out of 56 items
BIOGRAPHY OF LATE REV. UGOCHUKWU OBIORA ADIMORA
Rev. Ugochukwu Obiora Adimora was born on December 8, 1952. He was the 3rd of the children of Joshua and Christiana Adimora of Umueze, Uga, in Aguata Local Government Area, in Anambra State.

He was educated at Ibeme Grammar School, Mbano until the Biafran War started in 1967. Conscripting people into the army was then the norm. He joined the Biafran infantry in 1969 at a very young age and received the full Biafran military training as a Commando at Madonna 7, in Etiti.

When the war ended and the Biafran military disbanded, life was so uncertain for most young men who fought in the war. Ugo made a decision to go into business. In 1971, he returned home from Cameroon where he had travelled for business and relocated to Lagos where he continued in the business profession. Ugo would later move between cities, including Enugu, Kano, Lagos, London, and Warri in his business pursuits before deciding to settle finally in Uga. There were of course many interludes in Ugo's life that cannot be detailed in this short space.

Early in 1981, Ugochukwu got married to Ngozi from the Nwoye family of Awalasi Village in Uga and they have three children, Nnamdi, Adaugo and Chinyere as well as five grandchildren.

A hardworking and successful businessman, he was the CEO of Benagoz Resources Ltd and the Director of Hobel Resources Ltd. The two companies provided and executed construction and engineering services to numerous customers in the southeastern states of Nigeria.

Ugochukwu was a committed Christian and remained steadfast in his construction business to support his family and the Uga Word Believers Assembly Church he was pastoring.
FUNERAL ARRANGEMENTS FOR REV. UGOCHUKWU OBIORA ADIMORA
Online Service of Songs
Date: Saturday, 15th August, 2020
Time: 1800 hrs - 6PM, Nigerian Time
Venue: Zoom (Online)
Invitation Link: www.tributesportal.com/online-service-of-songs/rev-ugochukwu-adimora

Funeral Service and Interment
Friday, 21st August, 2020

Compulsory use of face masks and observation of social distancing

RSVP: 08035431389, 08037544005