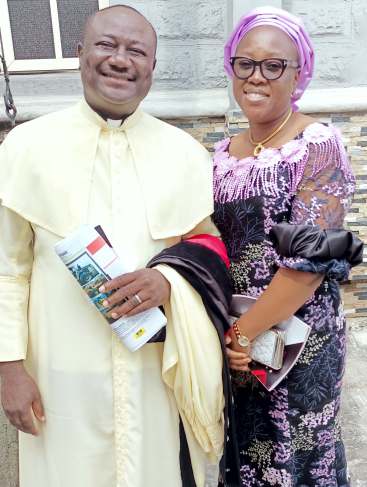 RELATIONSHIP: Wife
Country: Nigeria
Posted On: August 11th , 2023
State of Origin: Imo
Address: Isiala Oparanadim in Ahiazu Mbaise LGA
TRIBUTE TO MY SOULMATE
It was Ian Watts who wrote these profound words in his classical hymn contained in Ancient and Modern 165. "Time like an ever-rolling stream, bears all its son away; they fly forgotten as a dream dies at the opening day" Nwokeoma, you just varnished from my eyes and melted away from my warm embrace.
Writing a tribute to you at this point in our lives together is very difficult and unbearable to say the least. I didn't dream about it and I didn't see it coming. It all seems like a night mare that I'm still waiting to wake up from. Honey! Nwoke oma! Where are you? Obi i! where have you gone to? My tears and my cry, which steers your emotions no longer move you. For real? This is unbelievable and unimaginable.
God gave you to me as a gift. You loved me passionately and gave me the name JEWEL prior to our wedding. You cared so much for the children and I. You made sure we lacked nothing good that you can provide and you defended and shielded us from dangers and assaults. You inspired us to become the best in life and encouraged us to work hard and be diligent in our service to God and humanity. You taught us to be kind and make positive impact in the lives of people as much as we can. You came into my maiden home and extended the love you had for me to my siblings and parents. You cared for... VIEW FULL TRIBUTE
Share this tribute:
Displaying 51 out of 51 items
BIOGRAPHY OF LATE VEN. DR. OBINNA DAVID CHUKWUDINMA IBEZIM
Ven. Dr. Obinna David Chukwudinma Ibezim was born into the family of late Sir Hezekiah and Lady Priscilla Ibezim of Umuabazie, Umunwachukwu in Umuduruehie, Ezeoke Nsu.

He was born on the 17th of December 1967, as the youngest of the male children of the family. He got married to his soulmate, Nneka Adaku Duru from Isiala Oparanadim in Ahiazu Mbaise LGA, Imo State on Saturday 16 th October, 1999 at St. Stephen's Cathedral, Umuahia with Rt. Rev. Ugochukwu Uwaoma Ezuoke (as he then was) as the celebrant of the service, while Rt. Rev. Alfred Nwaizuzu (Rtd.) was the preacher. Prior to their wedding, he gave his lovely wife the name "JEWEL" and it became her official name.

The marriage was by all standards blissful and honorable. They were blessed with three adorable children, Daniel, Michael and Prisca.