 RELATIONSHIP: Daughter
Country: Nigeria
Posted On: July 22nd , 2023
State of Origin: Imo
Address: Isiala Oparanadim in Ahiazu Mbaise LGA
TRIBUTE TO MY SPIRITUAL FATHER, VEN. DR. OBINNA D. C. IBEZIM. GREATLY LOVED; DEEPLY MISSED
"There are special people in our lives who never leave us, even after they are gone" - D. Morgan Daddy, writing a tribute for you at this time is the most unexpected thing and a very difficult task to do. This tribute, probably, may have been among the very last to be submitted. This is occasioned by the fact that I feel drained of both physical and mental energy to do just that. Truly, I am bereft of words to write a befitting tribute to you considering your towering yet noiseless qualities. Daddy, you represented the finest of priesthood. You were an epitome of godliness. In you we saw a clear confluence of dignity, quality and purity. You were a paragon of humility, an emblem of ministerial integrity, a capstone of selflessness and a citadel of wisdom yet you bore all these with godly disposition. With your towering academic heights, your enviable ecclesiastical positions, your very wealthy and noble family background and your very unique privileges in life, you never for once made anyone of us to feel inferior before you. The least amongst us always felt valued, encouraged and motivated in your presence. Daddy, the truth is that you were our best. Oh, what a world! We lost our best. To me and many others, you were a father and will forever be. You were an encourager, a helper, a role model and a mentor. My ministry, especially within the Anglican Communion, wouldn't have happened without you. You yielded... VIEW FULL TRIBUTE
Share this tribute: RELATIONSHIP: Daughter
Country: Nigeria
Posted On: July 22nd , 2023
State of Origin: Imo
Address: Isiala Oparanadim in Ahiazu Mbaise LGA
A TRIBUTE TO AN ANGEL IN HEAVEN
The news of your death came as a shock to me, I always believed you will live life to the fullest, little did I know that there was a sad reality ahead. You were a man of wisdom and truth and you were known to always show love to people around you. I am grateful that in this life, I had the opportunity to call you father and I count it as one of my biggest blessings received from God. You always stood up for me and made sure I did the right things. You never looked down on my abilities but you always encouraged me and had so much faith in me and this sincerely has driven me to achieve much more than I taught I will ever be. It could appear that you are gone but I just want to let you know that the zeal and discipline you've planted in me will always keep growing to never without and you will forever live in our hearts.
It's a cruel world, I would have loved to have you around even for much longer, but I guess it's time you had a peaceful rest. I will never forget what you've taught me, that patience yields success. I promise to make you proud, just as you always made me proud. The memories of you, which I have and shared will remain a living existence.
Goodnight my Angel
Rest in peace Dad.
From Promise-iheonunekwu Amarachukwu Jane.
Share this tribute: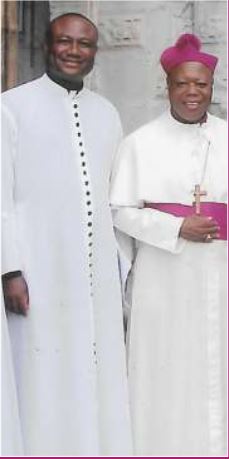 RELATIONSHIP: Colleague
Country: Nigeria
Posted On: August 11th , 2023
State of Origin: Imo
Address: Isiala Oparanadim in Ahiazu Mbaise LGA
A TRIBUTE TO THE VEN. OBINNA IBEZIM
NO MAN HAS POWER OVER THE DAY OF HIS DEATH (Ecclesiastes 8:8). He was a respected Pastor. No matter the order of ministry, or office he held, the Venerable Obinna Ibezim, Teacher, Priest, Canon, Lecturer, etc,—— the most distinguishing mark of who he was, was "FRIENDSHIP". We are sure that many will attest to this. He was a very young priest in this church when we knew him. We appreciated his wisdom, his gentle approach to issues, his prayer life, and the grace in expository preaching.
The Ven. Obinna and the wife, approached my wife and I, to be their spiritual father and mother, right from the inception of their marriage. We are glad to serve them in this capacity. The couple have been our friends, ll date. O LORD, send the Holy Spirit (the Comforter, to all who are devastated by this sad news. In Your mercy, LORD speak peace to us, and make us to trust You more. TEACH US, O LORD, NOT TO HOLD ON TO LIFE TOO TIGHTLY; TEACH US TO HOLD IT AS A GIFT TO CHERISH AND TO HALLOW; TEACH US TO HOLD TENACIOUSLY TO CHRIST, WHOSE KNOWING IS ABUNDANT LIFE OVERFLOWING TO ETERNITY;TEACH US TO LET GO WHEN THE GIVER COMES FOR IT , THROUGH WHATEVER MEANS; TEACH US TO KNOW THAT THIS CHRIST IS THE GIVER OF LIFE , AND HE IS GREATER THAN LIFE ITSELF ;TEACH US TO CLING TO THIS JESUS CHRIST, WHO DIED AND ROSE FROM THE DEAD, LEADING ALL WHO... VIEW FULL TRIBUTE
Share this tribute: RELATIONSHIP: Mentor
Country: Nigeria
Posted On: July 22nd , 2023
State of Origin: Imo
Address: Isiala Oparanadim in Ahiazu Mbaise LGA
A tribute to a Father and Mentor
Drawing selective inspirations from a poem by Russell Kelfer: You were who you were for a reason You were part of an intricate plan You were a precious and perfect unique design Called God's special man You looked like you did for a reason Our God made no mistake He knit you together within the womb You were just what He wanted to make The parents you had were the ones He chose You were custom- designed with God's plan in mind And you bore the master's seal. INDEED, GOD MADE NO MISTAKE, YOU WERE JUST WHAT HE WANTED TO MAKE!
Daddy, the news of your death came with a deep wound to my heart. Your life was in tandem with the life of Christ whom you preached. This could be seen in your disposition, humility, fatherhood, words, etc. One thing I won't forget is that you achieved a lot but you were not drumming for the praises of men but you sought the praise of God. You overcame by the blood of the lamb and by the words of your testimony. It is my prayer that God would grant us the grace and comfort of the blessed Holy Spirit even in this period and beyond. Rest on thou gallant soldier of the cross. God is faithful.
From Promise-Iheonunekwu Uchechukwu Williams
(One of your sons)
Share this tribute: RELATIONSHIP: Colleague
Country: Nigeria
Posted On: July 22nd , 2023
State of Origin: Imo
Address: Isiala Oparanadim in Ahiazu Mbaise LGA
Tribute to VEN. DR. OBINNA IBEZIM (A GALANT SOLDIER)
It is with heaviness of heart that we mourn the death of a great man of God, widely and highly respected. A church man, preacher of the gospel, an epitome of humility and generosity. You were an inspiration to many who came close to you. Your passing unto glory is a reminder of the word of God in (Job 14 vs 1&2), "Man born of a women is of few days and full of trouble. He springs up like a flower and withers away; like a fleeting shadow, he does not endure". We are therefore consoled by your legacies and exemplary Christian life, religiously guided by the great moral lessons of Jesus Christ filled with stewardship and mentorship which you left on the sand of time. Indeed, you have run a good race, fought a good fight and the crown awaits you. Rest in peace, till we meet to part no more.
Ven. Michael & Mrs. Uzoamaka Nwaubani
Share this tribute:
Displaying 15 out of 51 items
BIOGRAPHY OF LATE VEN. DR. OBINNA DAVID CHUKWUDINMA IBEZIM
Ven. Dr. Obinna David Chukwudinma Ibezim was born into the family of late Sir Hezekiah and Lady Priscilla Ibezim of Umuabazie, Umunwachukwu in Umuduruehie, Ezeoke Nsu.

He was born on the 17th of December 1967, as the youngest of the male children of the family. He got married to his soulmate, Nneka Adaku Duru from Isiala Oparanadim in Ahiazu Mbaise LGA, Imo State on Saturday 16 th October, 1999 at St. Stephen's Cathedral, Umuahia with Rt. Rev. Ugochukwu Uwaoma Ezuoke (as he then was) as the celebrant of the service, while Rt. Rev. Alfred Nwaizuzu (Rtd.) was the preacher. Prior to their wedding, he gave his lovely wife the name "JEWEL" and it became her official name.

The marriage was by all standards blissful and honorable. They were blessed with three adorable children, Daniel, Michael and Prisca.