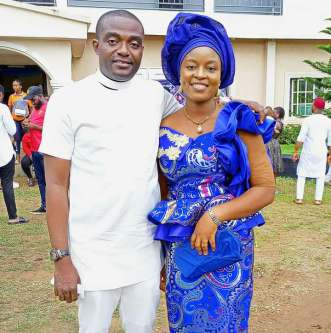 RELATIONSHIP: Mentor
Country: Nigeria
Posted On: August 11th , 2023
State of Origin: Imo
Address: Isiala Oparanadim in Ahiazu Mbaise LGA
UNANSWERED QUESTIONS IN A COOLER FOR THE RESURRECTION MORNING
Uncle Obi, the thought of your demise is hurting but the fact that this excruciating thought is going to be with us for as long as Jesus tarries is totally heartbreaking. My siblings and I grew up loving you with all our hearts, we had no reservation for you first loved us. The memories we shared with you and 'aunty nneka' remain a point of personal reset in our hearts. You had a name beautifully crafted for me (Nanando). You thought me to be ME. I remember vividly your soul pricking counsel at the verge of my entry into the university, those words germinated as seeds and brewed courage, boldness and willpower in me.
Uncle Obi, as I sailed through the wavy waters of the shores of Nigeria, you were always not far with a spare life jacket of advice and care, you were so far away in Nigeria yet I could almost feel you around saying those words, "Nanando, just be you". You had my email password and knew my little pranks as a young man. Uncle Obi, you knew everything about me. I remember that faithful day, you were asked by my parents to drop me back to School at St. Augustine Anglican Seminary, Nbawsi while they were away for Lambeth Conference, I had to soak my clothes in water because I didn't want to go back that day thinking you would reschedule, only for you to bundle me alongside my wet clothes back to school as late as 7:30pm screaming "Nnamdi, you... VIEW FULL TRIBUTE
Share this tribute: RELATIONSHIP: Mentor
Country: Nigeria
Posted On: July 20th , 2023
State of Origin: Imo
Address: Isiala Oparanadim in Ahiazu Mbaise LGA
A Mentor And Father
It is with utmost discomfort and displeasure that I write this condolence message.
This news came as a great shock to me and many others whose life have been greatly and positively imparted upon by VEN OBINNA IBEZIM. He was a man who dedicated his life to helping others and making the world a beer place.
I remember the song he sings every Easter which turned out to be a song sang during our family prayers. "Hosanna Diri Eze Di Ebube"
I remember when you handed Mummy Ibezim over to me to take care of her in school and I was wondering "how". It's so heartbreaking that we are almost at the end of our journey in school and you are not here to witness it.
You played the role of a father and mentor, helping me address various issues of life. Sadly, we cannot queson God but this sad news le me with a queson, could there be a remedy for death?
My thoughts are with the Ibezim's in this difficult me. With tears streaming down my face, I know you will find rest in the bosom of the Lord. You are dearly missed; Yes, you are!
OBIOCHA misses you and greatly loves you!
Farewell Daddy Ibezim Onyeoma, Nna onyeoma.
Share this tribute: RELATIONSHIP: In-law
Country: Nigeria
Posted On: July 20th , 2023
State of Origin: Imo
Address: Isiala Oparanadim in Ahiazu Mbaise LGA
TRIBUTE TO DR. DAVID OBINNA IBEZIM
My heart broke when I heard my dearest cousin's sudden departure, but I know that death did not catch him unaware, the Lord took him home. I know if we could ask him to come back to us, to come back to his wife and children he would say "No" because he is in the bosom of Jesus, the lover of his soul. He is in heaven. "Precious in the sight of the LORD is the death of his saints," says Psalm 116:15 (ESV). "The LORD cares deeply when his loved ones die." Obi, as I fondly called him when he was vising West Palm Beach Florida was a lover of God and a lover of mankind. He was God's servant- kind, gentle, compassionate, humble, very resourceful, and a fisher of men. He had a way of reaching people for the kingdom without verbosity. He has ministered to many, including vising the prisons in Florida to preach the gospel in the most simplified oratory that the captives whose souls were imprisoned were set free, giving their lives to Jesus. He knew his purpose in life and he was focused on his purpose her on earth, he accomplished everything he set out to do and God blessed him. He was a blessed man. He loved his wife and children, he was a great provider, husband, and father. He loved his family- brothers and sisters and relatives. He loved this community. When he was younger, he could not walk- The Lord miraculously... VIEW FULL TRIBUTE
Share this tribute: RELATIONSHIP: In-law
Country: Nigeria
Posted On: July 20th , 2023
State of Origin: Imo
Address: Isiala Oparanadim in Ahiazu Mbaise LGA
A TRIBUTE TO OUR BELOVED SON AND BROTHER INLAW VEN. DR. OBINNA IBEZIM
What can be said for a life well lived in devotion and service to God and his neighbor? Dr. Obinna Ibezim is such a man who perfected his faith and reverence for God in speech and in deeds. With sincerity in his expressions, he lived and walked in love and truth, before God and man. He easily inspires others to strengthen their own faith in God and to follow the straight and narrow path with body, mind and spirit. I pray that the shining light of his good example and life's work shall turn many inward in reflection to strengthen their devotion and faith in God and in service as they increase their good deeds in the world while caring for one another.
What can be said for a life well lived in devotion and service to God? Our beloved brother, Obinna Ibezim, is faithful, loving, true, and with a willing and obedient heart, he served both God and his neighbor well.
Gone from our sight and yet ever in our hearts and in Heaven. May his soul rest in perfect peace with God, Amen.
Ifeanyi Iroh,
For and behalf of the Family of
CHIEF FELIX I. IROH (NDI OGO AMAKOHIA)
Share this tribute: RELATIONSHIP: Colleague
Country: Nigeria
Posted On: July 20th , 2023
State of Origin: Imo
Address: Isiala Oparanadim in Ahiazu Mbaise LGA
TRIBUTE TO A WELL-BELOVED COLLEAGUE
An Igbo adage has this to say "There are many leaves in the bush and one is chosen known as". Ven. Obinna Ibezim is like that to me. When Ven. Obinna and his wife came to Aba Diocese to serve under Archbishop Ugochukwu Ezuoke he indicated his deep interest to move along with me as a friend and brother. To prove his decision he asked of my skull cap for his collation as Archdeacon. You know what this could mean knowing quite well that he could get the best for himself even from abroad at all cost. This brought us together in a very special way. We had special respect for each other. We shared a common vision in the ministry. No wonder he ranks second to me in order of priestly seniority. Ven Obinna Ibezim has a lot to impact on anyone privileged to come across him. He is so open to dish out knowledge and experience to anyone at anytime. He loves and is loveable. He is a good teacher. He is eloquent with inspiring words and messages to retain and sustain his audience. He is brilliant and intelligent. He is a well-groomed Churchman. He loves the church of God with great passion. He loves the Divine ministry more than any other vocation. We shall miss him as a rear gem. Brother Obinna your memories shall never disappear. Your remembrance shall ever be.
Adieu gentleman to the core.
Adieu great man of God.
Adieu great Church builder.
Adieu our great Scholar.
Adieu Brother and Friend.
Ven. Atulaegwu Chukwubuzo Dede.
Displaying 20 out of 51 items
BIOGRAPHY OF LATE VEN. DR. OBINNA DAVID CHUKWUDINMA IBEZIM
Ven. Dr. Obinna David Chukwudinma Ibezim was born into the family of late Sir Hezekiah and Lady Priscilla Ibezim of Umuabazie, Umunwachukwu in Umuduruehie, Ezeoke Nsu.

He was born on the 17th of December 1967, as the youngest of the male children of the family. He got married to his soulmate, Nneka Adaku Duru from Isiala Oparanadim in Ahiazu Mbaise LGA, Imo State on Saturday 16 th October, 1999 at St. Stephen's Cathedral, Umuahia with Rt. Rev. Ugochukwu Uwaoma Ezuoke (as he then was) as the celebrant of the service, while Rt. Rev. Alfred Nwaizuzu (Rtd.) was the preacher. Prior to their wedding, he gave his lovely wife the name "JEWEL" and it became her official name.

The marriage was by all standards blissful and honorable. They were blessed with three adorable children, Daniel, Michael and Prisca.